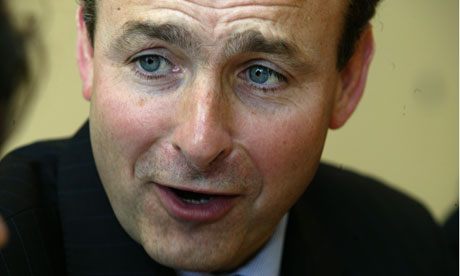 Whatever Micheál Martin is accusing Gerry Adams and the Republican movement of, it seems he is equally guilty.
This after all is Fianna Fail, a party with nothing but contempt for the plain people of Ireland, including the victims of sexual abuse.
Martin's utterances are very carefully-worded, but no less damning for that.
He claims to have information that "Republicans" have covered up cases of child abuse.
And if he – the leader of a party that still inexplicably calls itself "Republican" – had that information and didn't act on it, then he is guilty of whatever it is he is accusing the Republican movement (by which he means Sinn Fein, and not his party, which ruined the country) of.
This may have been a broader trend within the Republican movement.
Maybe so – because if Martin had evidence of a cover-up of child abuse, should he not have talked to the Gardai, rather than the Fianna Fail press office?
This is where his story begins to come apart.
After all, Fianna Fail supported the children's referendum, the passing of which will lead to the rights of children being written into the Irish constitution.
One of the expected pieces of legislation is to make the reporting of child abuse mandatory – something which Martin, despite claiming to have evidence – hasn't done.
So why hasn't Martin reported this cover-up?
There are many possible reasons, but the most likely is that there is no cover-up.
Martin has no evidence of a cover-up of child abuse by Republicans because there isn't any – this "cover-up" is a hasty and ill-thought-out political construct executed to stop the haemorrhaging of voters from Fianna Fail to Sinn Fein.
The problem for Fianna Fail is that fewer and fewer voters remember when Sinn Fein were inextricably linked to terrorism, and nor can they remember when Fianna Fail were actually Republicans.
What they do remember is the fact that a succession of Fianna Fail spivs destroyed the country and surrendered its economic sovreignty, before being destroyed in a general election which many of their sitting TDs didn't even bother to contest, such was the guarantee of humiliation.
They have slowly been allowed to rehabilitate themselves, mostly thanks to the fact that the Labour party have taken over their mantle of the party that changes its policies with the winds, and will say and do anything to cling to power.
But the big thorn in their side – and indeed that of everyone else – is Sinn Fein.
Disaffected voters, sickened by the hardship foisted on children, the sick and the elderly by a succession of austerity budgets initiated by Fianna Fail, are flocking in their droves to them.
Abandoned by the Labour Party and ignored by the rest, Sinn Fein is the only party that they feel speaks for them.
Are Fianna Fail worried? You bet they are, and at every turn, the established parties seek to drag up the past.
Jean McConville´s name is regularly shouted across the Dail chamber, always out of context, always by someone out of ideas.
I am no fan of Gerry Adams. His ridiculous insistence that he has never been a member of the IRA is as laughable as it is counter-productive. He has been party to despicable acts and he hasn´t always told the truth about them.
And if senior Republicans like Brendan Hughes – a man whose searing honesty about his own involvement in violence has taught us more than many would care to know about both the armed struggle and Northern Ireland in general – says Adams was a leading figure in the IRA, then I believe him.
But like him or not, Adams has taken political and personal risks to deliver a sort of peace in Ireland.
Micheal Martin, on the other hand, has played an integral part in the destruction of the Irish health service, and eventually the country itself.
He has never shown remorse, never apologised properly for his part in destroying the future of generations of Irish children to come.
And now he has either sat on his hands despite being aware of a child abuse cover-up, or he has fabricated the whole thing to exploit the pain of the family of a political opponent for personal gain.
Neither of those is the behaviour of a statesman. But both are unfortunately par for the course for a Fianna Fail politician.
Micheal Martin, like his party, is a stain on the Irish republic, and needs to be dispensed with if Ireland is ever to recover a semblance of what passes for democracy.
Delendum est.