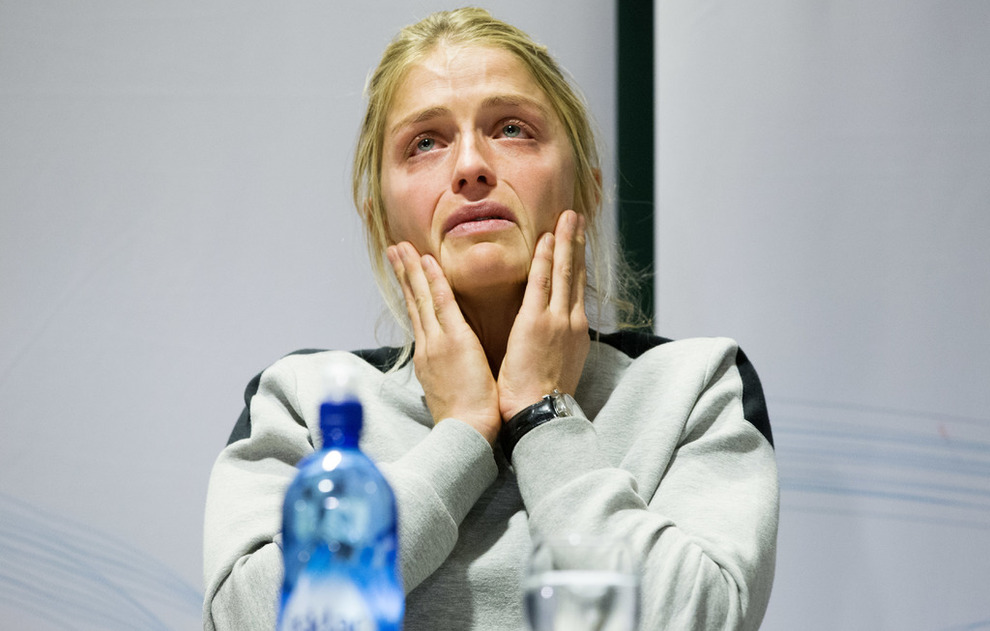 Det finns något väldigt underligt i hur vi behandlar de som fuskar inom idrotten.
I vissa fall döms ju ut personer innan de ens åker dit medan i andra kan en utövares urin bestå av hundra procent testosteron och ändå ber vi om nåd för dem – varför?
Anledning till att ämnet kommer upp igen är att Theres Johaug har testat positiv för ett förbjudet preparat och att skandinavisk media skruvar på sig för att hitta en utväg.
Bland andra har två av Sveriges särklass bästa sportjournalister, Thomas Wilbacher och Patrik Ekwall, skrivit att vi måste ge henne en chans, ge henne "the benefit of the doubt", att det finns säkert en rimlig förklaring för det positiva testet.
Min fråga är – varför?
Varför ska vi köpa just hennes ursäkt om att hon tog en kraftig steroid, helt omedvetet?
Varför ska hon komma undan när alla aktiva i alla sporter i hela världen vet ju att det är de som är ytterst ansvariga för det de stoppar i sig – inte läkaren eller tränaren eller någon annan?
Varför ska det skillnad mellan henne och, säg, Abeba Aregawi – i ett fall där Patrik Ekwall tidigare konstaterade att:
… allra först säger vi att idrottsstjärnor alltid ansvarar för sin egen kropp och för vad de väljer att stoppa i den.

Det gällde Linda Haglund, Ludmila Enquist, Ricky Bruch, Tomas Johansson, Andreas Gustafsson, Adil Bouafif och det gäller i allra högsta grad Abeba Aregawi.

Det är aldrig någon annans fel.
Varför ska vi då ha en dubbelmoral vad det gäller en skidåkerska som vi vet åker i ett landslag där aktiva har fått astmamedicin utan att vara sjuka?
Man blir ombedd hela tiden att ha nyanser i den här diskussionen – problem är att det finns inga nyanser, inga gråa zoner, inga frågetecken enligt WADA.
Den aktiva är själv ansvarig.
Punkt.
Det är inte en åsikt.
Det är fakta.
Och att be folk att tillämpa domstolens regler – att det ska bevisas utom all rimlig tvivel – är inte heller aktuellt. WADAs regelverk är solklar.
Det är upp till den aktiva att visa antingen att de inte hade stoffet i kroppen, eller att de hade en medicinsk anledning att ha det där.
Det har varit mycket snack om TUEs på senare tid och det är solklart att de som behöver medicin för att tävla ska absolut få ta det enligt det regelverket som finns (även om den också kan utnyttjas, men det är en annan femma).
Men att vi ska köpa Johaugs tårar bara för att köper inte jag.
Likt Patrik och säkert Thomas också har jag intervjuat aktiva som har ljugit mig rakt upp i ansiktet om dopning.
Jag har hört alla ursäkter, från att de har ätit kött som blev smittad med steroider i Kina till att de tog en oskyldig kosttillskott som hade blivit förorenade.
Jag har hört om olika krämer och hostmediciner (ofta innehållandes kraftiga ämnen som av en ren slump höjer prestationen hos en idrottare) som man har tagit helt oskyldigt, för att sedan åka dit på ett pissprov.
Jag har hört dem be om att få B-provet analyserat, när detta resultat ytterst, ytterst sällan visar sig vara annorlunda från A-provet.
För den som verkligen vill se med ett nyanserat öga – se bara på hennes ihåliga förklaringen. Där snackar vi duktigt med nyanser.
Sanningen är att det tog sekunder att googla fram en varning om att krämen som Johaug använde var på "banned list".
USADA har också en "hotline" man kan ringa och till och med en app man kan ha i luren om man vill kolla om en medicin är OK eller inte.
Det finns hur många sätt som helst att ta reda på om något är förbjudet eller inte – och så finns det alternativet av att inte ta något alls om du inte vet vad det innehåller.
Och även om man nu köper Johaugs förklaring – var drar vi gränsen då?
Är det helt plötsligt läkaren som är ansvarig för hennes provresultat? Förbundet? Sponsorerna?
Dopningsregelverket är långt i från perfekt och även i dag finns det de som kommer runt det ganska enkelt.
Men det ser ut som det gör av en anledning – att det yttersta ansvaret måste ligga någonstans, och det är bestämt att det ska läggas på utövaren.
Om hon verkligen, verkligen har tagit det av ett misstag så tycker jag förstås synd om henne. Men det är ytterst osannolikt att en elitidrottare i den absoluta toppen av sin sport kunde göra ett så grovt fel helt omedvetet.
De man sällan pratar om är de andra hon tävlar mot – vem ser ut för deras intressen? De uteblivna pallplatserna och sponsorpengarna?
Om det är nyanser vi är ute efter så kan vi och ska vi och måste vi bena ut hur systemet funkar och vad som ska göras för att förenkla och förbättra det så att inte oskyldiga idrottare åker dit.
En bekant till mig som är journalist ställde gång på gång på gång frågor till och om en elitidrottare då han visste att idrottaren dopade sig. Till slut slutade folk att lyssna på journalisten.
Han blev av till och med av med jobbet eftersom juristerna sa, vecka ut och vecka in, att tidningen han jobbade på riskerade åklagas för förtal om han fortsatt på samma spår och de publicerade det han skrev.
Han gav sig inte.
Journalisten i frågan heter Paul Kimmage.
Idrottaren heter Lance Armstrong.
Det är därför vi ska fortsätta ställa frågor.
Men egentligen är det ju exakt som Patrik en gång skrev.
Det är aldrig någon annans fel.