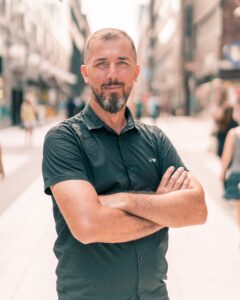 Our Man In Stockholm is me, Philip O'Connor, an Irish journalist, podcaster, writer, producer and cameraman based in (surprisingly enough) Stockholm, Sweden for more than 20 years.
I publish weekly podcasts for the Irish in Sweden and the global Irish community on the Our Man In Stockholm podcast feed, and I report on news and sports for some of the world's biggest media outlets, as well as making films and helping companies and organisations with their corporate communications.
To support my work, you can sign up on Patreon and become a monthly subscriber, or if you're in Sweden you can make a donation via Swish to 1232424166.
My first book "A Parish Far From Home" told the tale of how Gaelic football brought the Irish in Stockholm together and was nominated as Sports Book of the Year at the Irish Book Awards in 2011. At the beginning of the COVID-19 pandemic in April 2020 I made it available for free on SoundCloud as an audiobook.
To sponsor any of the podcasts or to commission me for other work, drop an email to philip[at]eblana.se or call +46707217715.